Good Systems
We are proud to partner with the W.K. Kellogg Foundation (WKKF) and a diverse group of community-partners that share a vision for helping families increase workforce mobility and achieve economic security using a two-generation approach. The work being done under the Good Systems Grant will help to strengthen – both children and their parents – simultaneously. When parents have enough income, benefits and supports, they can better support all aspects of their children's development to help reach their full potential.
Good Systems
Quality child care that is affordable and flexible is one of the critical support services that parents need in order to succeed at work.
The Good Systems grantees include workforce development organizations which are leading and formally partnering with early childhood education providers for a two generation approach to identify unemployed or under employed, career-seeking single parents who already have their children enrolled in child care, pre-K programs, and elementary schools.
The grantees will provide those parents with access to short-term, demand-driven, sector-based workforce training, education, and wrap-around supports that can lead to quality employment in high-demand industries.
WKKF seeks to engage workforce development organizations to plan a more active role in cultivating the potential of unemployed and under employed parents – a demographic that plays a significant and rising role as breadwinner, yet are disproportionately employed in low-wage jobs.
By connecting unemployed and under employed parents of young children with workforce training and employment opportunities, parents can get the skills and credentials needed for quality jobs and wages that enable them to raise their children in economically secure homes, thus improving a child's chance for success in life.
Locally, the Good Systems program seeks to provide entry-level certification programs to help parents build career awareness, industry specific training, build social capital and learn new tools to support their child's growth. We do this by providing career focused training, partnering with educational and childcare services to provide parental training and support, and working with community agencies to improve benefits access.
Certification opportunities currently offered in:
Early Childhood Education
Health Care
Hospitality
Manufacturing
Retail
To enroll in our career and family focused training or inquire about programming please call: 269-788-6500 ext 2032
Class Members will receive
Access to FOC services
Free Financial Profile and Debt Analysis
Free Credit Report
Public Benefits Screening
Employment Screening
Class location: 15 Capital Avenue NE, downtown Battle Creek.
Parking: State Street lot between McCamly and Capital Avenue NE.
Entrance: On Capital Avenue across from the Kellogg Foundation building
Cost: FREE
Register today! Call 269-788-6500 ext 2032 or email: BattleCreekWFD@goodwillcmh.org
Individual consultation available by appointment.
Navigations, Incorporated/SourceAmerica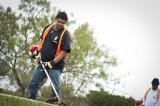 Navigations, Incorporated was formed in 1991 to work with the AbilityOne program  partnering with SourceAmerica to assist non-profit organizations, such as Goodwill Industries of Central Michigan's Heartland, Inc.  This allows us to obtain federal contracts designed to provide employment opportunities and job training for individuals with disabilities with the ultimate goal of placing them in competitive employment. Navigations contracts with General Services Administration to provide janitorial, grounds keeping and snow removal services at the Hart, Dole, Inouye Federal Center.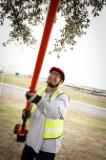 Navigations also has a housekeeping set-aside contract with the State of Michigan for work at the Fort Custer Educational Center located on the Fort Custer military base, which provides a  training program for individuals with disabilities similar to our federal contract.